A cataract is the clouding of the natural lens inside the eye that causes a decrease in vision over time.  Your local eye doctor may tell you that changing your glasses prescription will no longer improve vision when a cataract has advanced.
Possible signs of a cataract include:
Problems seeing while driving at night
Problems driving because of glare from oncoming headlights
Difficulty reading road signs
Difficulty reading small print, such as your mail or medicine bottles
Difficulty threading a needle, reading a tape measure, using a computer or cellphone
Problems with mobility and balance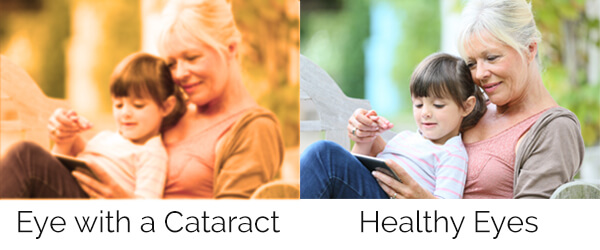 Cataract Treatment
Cataract surgery is an outpatient procedure, which is one of the safest and most successful surgeries done in the United States each year. During the procedure, the cloudy lens of the eye is dissolved and a new artificial lens is implanted.
It is an exciting time to have cataract surgery!  Treatment of cataracts has drastically improved in recent years.  Advanced technology and cutting edge innovations have significantly improved visual outcomes. A cataract examination at The Hughes Eye Group includes an extensive evaluation by our doctors and staff to determine if you are a candidate for the procedure and which treatment plan is best for you.  Review the following options and FAQ for more details prior to your examination.
Cataract Surgery Options
---
Cataract FAQs
Helpful Tools
Cataract Surgery FAQ
Understanding Cataracts and Treatment
Cataract Surgery Options
Cataract Instructions and Checklist (1 Bottle)
Print these instructions if you received the LessDrops (1 bottle) formulation at our office.
Cataract Instructions and Checklist (3 Bottles)
Print these instructions if you chose to have your medications (3 bottles) sent to your local pharmacy.