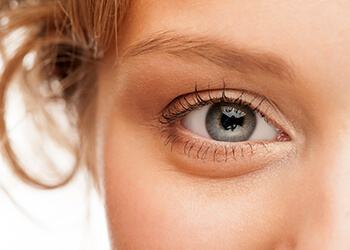 Ophthalmic plastic and reconstructive surgery is a specialized area of ophthalmology with a focus on diseases and surgery of the eyelids, lacrimal (tear) system, the orbit (the bony cavity surrounding the eye) and nearby face tissue. An oculoplastic (or ophthalmic plastic) and reconstructive surgeon is an ophthalmologist (medical doctor and eye surgeon) who has completed additional training in plastic surgery as it relates to the eyes and their surrounding structures.
Blepharoplasty (for droopy eyelids)
Excess skin around the eyes can cause droopy eyelids, which may greatly restrict vision as well as change your appearance. An oculoplastic surgeon is specially trained to preform blepharoplasty, a procedure to to eliminate droopy or baggy eyelids. This procedure can be performed on upper and/or lower eyelids, offers a gratifying cosmetic benefit, and improves skin integrity with little downtime.  Learn more about belpharoplasty here.
Ptosis
'ÄúPtosis'ÄĚ is another cause for drooping of the upper eyelid. This condition can impact one or both eyes, and may occur in children or adults. Depending on the cause, surgical intervention can help tighten the surrounding muscle and raise affected eyelids.¬† Learn more about ptosis here.
Entropion and Ectropion
Entropion is a condition where the lower eyelid or lashes turn inwards towards the eye. This is often caused by age, injury, scarring, inflammation or a congenital defect. Entropion can lead to excessive tearing, infections, and even impaired vision.  During a simple outpatient procedure, an oculoplastic surgeon can tighten the eyelid, restoring the lid's integrity.
In contrast, ectropion is a condition in which the eyelids turn outward. This condition can be caused by a variety of factors including age, injuries, tumors or Bell's palsy.  Ectropion can lead to recurrent infections, corneal damage and impaired vision.  This condition can often be treated with a simple outpatient tightening procedure.  Learn more about entropion and ectropion here.
Skin Cancer of the Eyelid
Eyelid skin cancers occur most frequently on the lower eyelid, but may be found on the corners of the eye, eyebrow skin, or eyelid margins. These usually appear as painless or elevated nodules and are typically caused by excessive exposure to sunlight. One may notice missing eyelashes, skin ulcers, bleeding, crusting, and possible distortion of the normal skin structure.  Early detection will decrease the amount of tissue removed, decrease potential scarring, and in some cases prevent the spread of cancer to other organs.  Learn more about eyelid skin cancer here.
Patient Forms for Dr. Linder
James Linder, M.D., a board certified ophthalmologist, provides oculoplastic speciality services at The Hughes Eye Group.  Please visit Dr. Linder's website at jslindermd.com for patient forms and more information about oculoplasitc services.