The doctors at the Hughes Eye Group work together with a team of board certified vitreoretinal specialists and fellows. The retina team uses advanced technology in our Jackson office to provide thorough evaluations, treatment plans, and surgical intervention of the retina when indicated.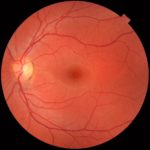 Along with a thorough examination by our doctors, additional testing may include Opitcal Coherence Tomography and Fundus Photography with fluorescein angiography to diagnose and monitor retinal disease. Intravitreal injectable medications are a treatment option for many of our patients with progressive retinal disease. Other patients may benefit from laser treatment when indicated. Many of these injectable and laser procedures are available in our main Jackson office.
Retina Services- FAQs
Why are the Retina Specialist available on specific days?
Our vitreoretinal specialists travel from Memphis to our Jackson office several days each month for in office evaluations and surgical procedures.  This saves our patients an extended drive to receive specialty care.
Why does an appointment with the Retinal Specialist take longer than my usual eye appointment?
A vast majority of patients seen by a retina specialist need a dilated exam.  It typically takes at least 30 minutes for your eyes to become fully dilated for the testing and evaluation.  The retinal specialists perform a thorough evaluation of your eyes which often includes additional testing typically not performed at a standard eye exam.  After reviewing testing results, a plan is determined to manage your retinal condition.  This plan may include injections, laser, surgery and/or a combination of the treatments.  Many of these treatments are available in the office the same day as your evaluation.
Why might my appointment be longer (or shorter) than another patient arriving at the same time?
Each patient seen at our retinal clinic is evaluated for a different reason.  Some patients will only spend a short period of time at clinic while others may be with us for several hours, depending on their condition and treatment plan.
Will I require follow-up visits with the Retina Specialist?
Depending on your diagnosis, you may require follow-up visits. Many retinal conditions, such as diabetic retinopathy and macular degeneration, are chronic conditions that require life-long care, many office appointments and treatments. Many retinal diseases are not curable; however, some diseases are manageable with close monitoring. In many cases, treatment is focused on stabilizing the condition and preventing further vision loss. Unfortunately, missing appointments or refusing treatments will usually lead to progression of the disease and vision loss.
I have seen the Retina Specialist several times, should my vision be improving?
Severe retinal conditions may be frustrating for the patient and even the doctor.  These conditions typically require monthly visits to stabilize vision and prevent deterioration of sight. We understand the frustrations associated with monthly visits and treatments.  Some patients may not experience a stabilization of vision until they have received treatments over several months.
Are there any recent developments in the treatment and management of retinal disease?
Our retinal specialists follow the recommendations of world-wide studies and accepted treatments to provide you with state-of-the-art techniques, medications, and available treatments.  Approximately 15 years ago, there were only a few treatments to prevent or save vision for patients with advanced retinal disease.  Today, numerous treatments exist to help in preventing vision loss.
Why are so many patients scheduled to see a Retina Specialist?
Presently, there is a shortage of retinal specialists in the United States, and the shortage will continue for at least the next 10 years according to governmental statistics.  Retinal specialists typically live and practice near major cities.  We are thankful our specialists travel to Jackson to take care of our retinal patients.  In general, retinal specialists stay extremely busy because of the massive influx of patients into their practices and the aging of our population.  We appreciate your patience during these busy practice days.  Rest assured, the retinal specialists will tailor a plan to assist in preventing progressive vision loss.
Will my insurance cover the retina evaluation, tests, and treatments?
It is impossible to pre-authorize your insurance services until the doctor makes a plan for your care. The plan for treatment will be based on vision, examination, advanced testing and accepted treatment protocols. It is not uncommon for our insurance professionals to be "on-hold" with telephone calls to your insurance company for up to an hour. Unfortunately, this may ultimately increase "waiting time" at our clinic.
Treatment will not be given until you understand the financial constraints of your insurance plan and the financial responsibility for the care you are to receive.
The insurance professionals at the Hughes Eye Group will help you understand your medical insurance. Our office employs five full-time employees with a combined 60 years of insurance experience to manage insurance, pre-authorization, billing and coding. The doctors at the Hughes Eye Center are contractually required to follow the rules of your insurance plan. Many insurance plans require co-pays and annual deductibles which must be collected on the day of your appointment.
Why are injectable retina medications expensive?
Injectable eye medications for the treatment of severe retinal diseases (including macular degeneration and diabetic retinopathy)  are EXPENSIVE.  For instance, the medication LUCENTIS cost our practice $2000 per injection.  Yes, this is our cost to purchase the medication for you!  If your deductible has been met and your insurance has been appropriately pre-authorized prior to the procedure, our clinic is reimbursed roughly 30 days later for the cost of the medication ONLY!  There is no "mark-up" for this medication. The monies exchanged are for the cost of supply only.  Doctors do not get paid or profit on the supply of medications.
Is someone available to explain my billing statement?
If you are confused about your billing statement, please bring the statement with you and our insurance individuals will take the time to explain details of your benefits.