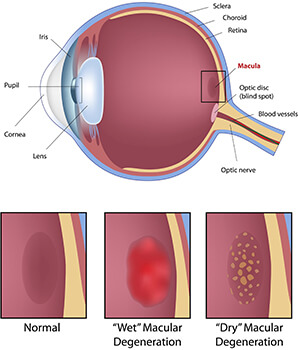 Macular degeneration, a chronic eye disease, is the leading cause of vision loss and affects more Americans than cataracts and glaucoma combined. The disease is caused by the deterioration of the central portion of the retina, known as the macula, which is responsible for focusing central vision and controls the ability to see objects in fine detail. Patients with macular degeneration have difficulty reading, driving a car and recognizing faces and colors.
Macular degeneration has two forms:
Dry
There is progressive deterioration of several retinal layers that typically results in difficulty with reading. Usually it progresses slowly and very rarely causes blindness.
Wet
There is fast loss of central vision associated with bleeding and/or fluid accumulation in the central part of the retina. This requires prompt diagnosis and treatment.
Our physicians use the latest in diagnostic equipment to determine the best approach for treating macular degeneration. Treatment may help slow the progress of macular degeneration and sometimes can restore lost vision. Your treatment depends on your condition, but may include frequent exams to monitor your condition, laser treatment, surgery or other procedures.
Click here for more information about the Hughes Eye Group Retina Services.